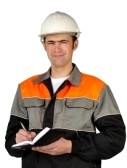 As a machinist you have one of the most wide ranged technical educations today. No matter if you have 25 years of experience or if you are newly qualified you know that it is very valuable that things run 100% optimally.

We have many machinists as primary contact person on the companies we service. We speak the same language and we know how important it is, that you as a machinist get a serious and quick follow-up to achieve your goals.

Today machinists get more and more tasks on a higher and higher level in the organization. This requires more and more time to concentrate upon the subjects – time that is rarely available. As field water treatment is highly complex and it is rarely here you are given the time to devote yourself as machinist. This is where we can help you and cover you so you can keep focus on your primary tasks and at the same time everything regarding your water and production is constantly optimized.

These are typical tasks we assist machinists with (in addition to guaranteeing the running operation):

Assisting you in uncovering and prioritizing areas that need optimizing within cooling, steam, heat and processing.
Assisting you in optimizing these units in order for you to obtain the best profitability and longer life time of the systems.
Assisting you document and render visible the action areas and results
Assisting you calculate efficiency, environmental issues, consumption of energy, water and chemicals
Assisting you coaching the organization to introduce new and better routines – and maintain these!