Autoclaves, pasteur plants etc.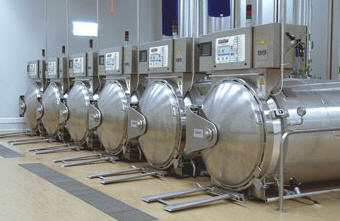 The key to a problem free production of glossy finished products.

The look of the packing of a finished product is imperative in relation to consumer preference in stores. This makes heavy demands on water treatment during sterilization- and cooling processes since this is where you can avoid great problems with fat- and calcium coatings, lacquer release and blushing which results in expensive discarding of finished products and rapid wearing of production equipment.

Therefore, acti-Chem has developed a new product line of specialty chemicals and services for the canning industry and related industries that has made us one of the absolute leading on the market in Europe. New environmentally correct technologies adapted specifically to water quality and processing equipment.

The use of new specialty products together with the delivery of modern processing equipment and internal training and counseling for your plant operators makes this total concept a natural choice for anyone responsible for sterilization technical processes.